Description
One of the most thrilling presents we can give your kids is this vehicle bed. Because it can help him remember happy times and allow him to rest easily. He can actually use this automobile bed during the daytime. The remote control for this automobile crib allows your child to play sounds. Additionally, the LED lights under the car's wheels will serve as sleeping lights at night and enhance the elegance of the bedroom. Your youngster may spend the day in his bed and comfortably read, play, or sleep thanks to the chair's built-in back. This item is fully recyclable and won't hurt your youngster in any way.
Amazing Features
Uscarbed products are simply unique, awesome looking furniture. They are a child' dream materialized and a parents concerns satisfied and addressed.
Even though the car beds are inspired by kids' ideas, they are still designed by skillful engineers who take into considerations all elements of risk and make sure the design is suitable for all children aged 2-12.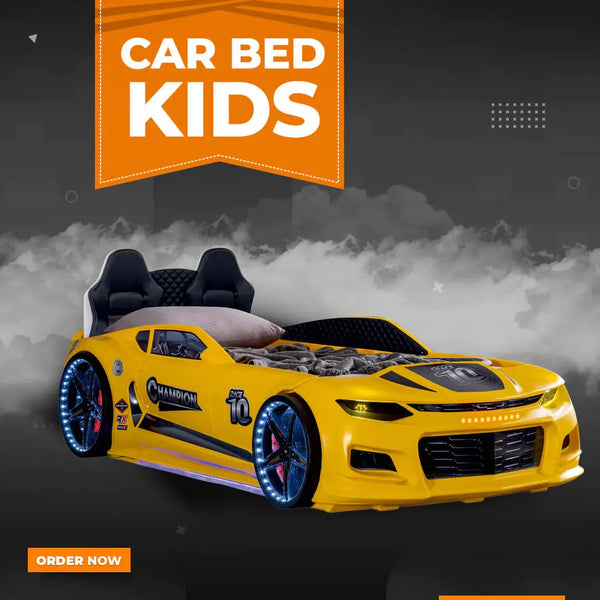 Easy Assembly
Uscarbed®️ products are truly easy to assemble. Assembly Guide
Looking for a unique and exciting bed for your child? The Yellow Champion Race Car Bed for kids is the perfect choice! With its bright color and stylish design, this bed will make your child's room stand out. The best part is the leaning back seat which makes it even more fun for your kid to play on.
This race car bed is made of durable and high-quality materials that will last for years and withstand the wear and tear of an active child. The bed is designed to fit a standard twin mattress and comes with side rails to keep your child safe.
Your child will love the attention to detail on this bed, including the realistic wheels, spoiler, and headlights. The bed is easy to assemble and will provide a comfortable and exciting sleeping experience for your little speedster.
Order the Yellow Champion Race Car Bed for kids online today and get free shipping. Give your child the gift of excitement and adventure with this one-of-a-kind bed!